Russian delegation took part in the First Global Manufacturing & Industrialisation Summit (GMIS)
April 03, 2017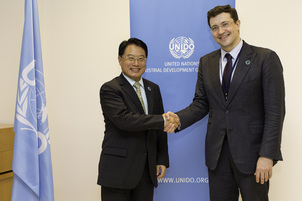 Russian delegation, headed by the First Deputy Minister of Industry and Trade of the Russian Federation, Mr. Gleb Nikitin, participated in the Global Manufacturing & Industrialisation Summit, held in Abu Dhabi, United Arab Emirates, from 27 to 30 March 2017. The Director of the UNIDO Centre for International Industrial Cooperation in the Russian Federation, Mr. Sergey Korotkov, also took part in the Summit.
The UNIDO Centre in the Russian Federation provided strong support in the event preparation. About 20 organizations were delegated to the GMIS. They represented research institutes and enterprises specialized in such fields of innovative technologies as robotics, cyber security of industrial facilities, object data storage, venture investment, development of transport corridors, clean recycling technology, showcasing such diverse inventions as augmented reality glasses, integrated platform for Internet of Things, drones and their charging stations, nanostructured fertilizers, micro open-cell foams, innovative light weight concrete, smart furniture and windows, industrial air conditioners. Some of the product samples were showcased at the collective stand of the Russian Federation organized by the Russian Export Centre.
The Russian delegates spoke at various panel discussions, their presentations and reports aroused great interest among the Summit participants.
Furthermore, the First Deputy Minister held a meeting with the Director General of the UNIDO Mr.LI Young on the sidelines of the Summit to discuss the development of further cooperation.
LI Young highlighted the important role of the Russian Federation as a donor-member of the UNIDO and emphasized the need to further promote the transfer of Russian expertise and technologies to other countries through the existing network of UNIDO Investment and Technology Promotion Offices (ITPOs). The Director General expressed the hope that the Russian Federation will participate in the next Summit which is scheduled to be held in 2019.