Industrial innovation club
Place of implementation/partners – Russian Federation, Moscow / Russian enterprises—members of Industrial Innovation Club, participants of Technology Platform
Main Direction—BRICS countries and BRICS/Africa
Period of Program – 2012 – 2015
Main directions of the programme Industrial innovation club
I. Goals and objectives
The Program is taking shape in the frame of support to the Declaration of BRICS Summit 2011 on cooperation in the field of science, technology and innovation and to the Declaration of BRICS Summit 2013 on BRICS/Africa partnership for industrial development.
The main goal of the Program is assisting in access of Small and Medium Enterprises (SMEs) to modern technologies for providing of sustainable economy growth of participating countries.
Achievement of the goal is planned via consolidation of Russian science & technical potential for establishment technology partnership of participating enterprises with UNIDO support as intermediary.
In the process of the Program development it is presumed assisting in identification and creating of SME supporting instruments for getting of financing from international Funds, Banks and Development Corporations.
The Program is in early stage of framing technology basis for technology partnership in the way of Technology Platform of Russian enterprises and Conception for specialists training.
Priority industrial Clusters of the Program are identified and forms of assisting to technology partnership development is in the process of identification.
Simultaneously with industrial basis framing the initial Russian projects for priority clusters of Technology Platform has been identified for BRICS and BRICS/Africa.
II. Regional and cluster directions
Regional direction of Industrial Innovation Club activity is BRICS countries including:
Involvement of Russian enterprises to participation in the projects of industrial development in support of BRICS Summit 2013 Declaration "BRICS/Africa: Partnership for Development, Integration and Industrialization".
Assisting in establishment of Consolidated BRICS Technology Platform in development of BRICS Summit 2013 Declaration and for supporting of UNIDO Project "Russia—Brazil partnership in Science, Technology and Innovation for SMEs with extension to all BRICS Countries.
Key directions of priority industrial clusters of national programs of emerging economies are mainly coincide with each other and can be system-defined in general format:
Mining, Mineral Enrichment & Processing, Production of Metal & Metal Fabrication
Energy, Energy Efficiency, Renewable Energy
Agro Industry and Agro Processing
Infrastructure and Construction (transport and energy Infrastructure, industrial Construction and Housing)
"Green Economy" (Eco technologies, Clean production, Climate change, Biodiversity, Industrial wastes management, etc.)
National industrial development programs of emerging BRICS countries and developing Africa countries are the best Guideline for Business community showing perspective directions of international industrial cooperation.
III. Russian participants of innoivation club
Industrial Innovation club is framed from representatives of Russian enterprises practicing or planning activities in BRICS countries and in African region.
The Club includes industrial equipment manufacturers, science and production enterprises, engineering and designing companies, technology holders and providers, research organizations and education facilities, possessing intellectual resources of qualified specialists training, e.g.:
International Union METALLURGMASH uniting above 50 Russian and CIS Metallurgy equipment Manufacturers and possessing of UNESCO License for metallurgy specialists training
VNIIMETMASH Holding (est.1965), possessing research, engineering, designing facilities and about 3000 patents in metallurgy, operating own equipment manufacture plant and Mini steel Mill, having long term experience in international metallurgy market, approved as State Science Center in Metallurgy
VNIPIENERGOPROM Association (est.1942) possessing branches for Energy projects in Central, Privolzhsk, South Ural & West Siberia districts of Russia.
JSC "PROEKTPISCHESTROI" (est.1938) implemented above 2700 local and international projects in agro processing cluster including 30 of recent time.
Representatives of Russian state sector are participating in the Club activities including regional department of Ministry of economic development, state financial funds and instruments for efforts consolidation in the frame of public-private partnership. Non commercial technology and innovation associations can be involved in the Club as well.
IV. Technology platform
Basic working document of Innovation Industrial Club (PIK) is consolidated Technology Platform framed basing on experience of practical regional activities of Club members.
The core of Technology Platform by cluster vector is initiative proposals of Russian enterprises—Club members for assisting of industrial development BRICS countries.
Technology Platform BRICS is innovation resource and information instrument of UNIDO Center in Russia for assisting in condition creating for consolidation, framing development and implementation of regional vector Russia – Brazil, South Africa, India, Chins and format BRICS/Africa.
Working language of Technology Platform BRICS is English as working language of BRICS and UNIDO and all proposals are introduced in English.
Here is below the sample of scheme for Technology Platform BRICS is introduced with the list initiative proposals of Russian enterprises for priority industrial Clusters.
CONSOLIDATED BRICS TECHNOLOGY PLATFORM
FOR UNIDO PROJECT 2012 – 2015
«Russia—Brazil Partnership in Technology and Innovation for development of SMEs with expanding to all BRICS countries»: Russia – South Africa Sub regional Vector
FOR BRICS / AFRICA PARTNERSHIP
in development of the Fifth BRICS Summit in South Africa 26—27 March 2013 "BRICS /AFRICA: Partnership for Development, Integration, Industrialization"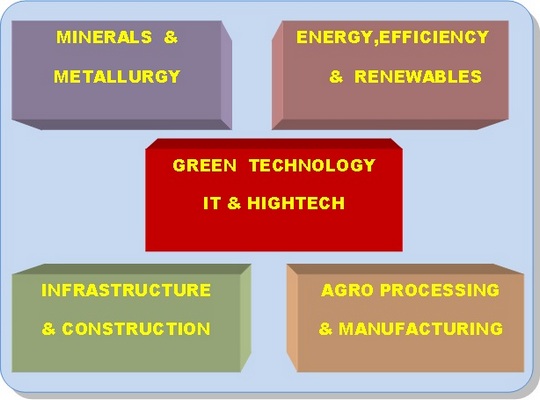 V. Organizational support
In accordance with Information letter of UNIDO Center for international industrial cooperation in the Russian Federation of 22 December 2012 the Industrial Innovation Club is beginning to be framed on a voluntary basis in the way of expert conceptual and project coordination.
Industrial Innovation Club is Technology and Innovation resource of UNIDO Center for international industrial cooperation in the Russian Federation and it is carrying out practical activity via Technology Platform bring framed by the Club.
Technology Platform is Innovation Instrument of Industrial Innovation Club for assisting to implementation of regional and cluster Conceptions and Project proposals in accordance with goals and objectives of the Club.
Regional and cluster Conceptions and Project proposals are Innovation Products of Russian enterprises – Club members.
Head of Industrial Innovation Club
Sergey Korotkov
Director of UNIDO Center for international industrial cooperation in the Russian Federation
Coordinator of Industrial Innovation Club
Viktor Kulkov
Board Member of regional association International Science Bridge, Director for Development and GR
Contacts
E-mail: prominclub-info@yandex.ru
VI. Information enclosures
7 April 2017
Moscow, Russia
Project's news