VII International science and practical forum "Effective management systems: quality, innovations, education"
March 05, 2018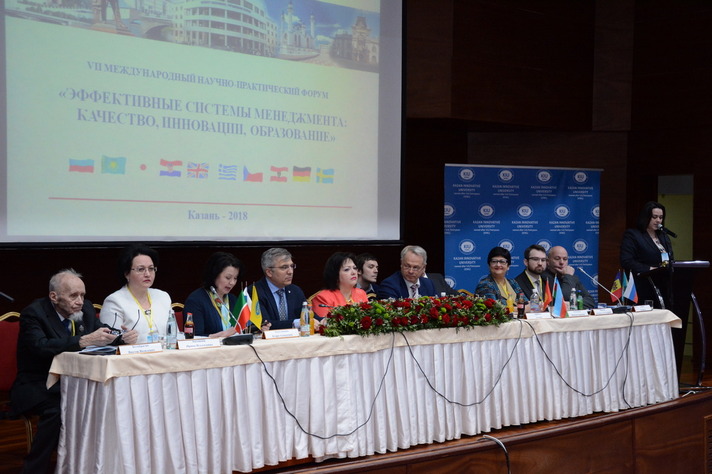 The VII International Science and Practical Forum "Effective Management Systems: Quality, Innovations, Education" was held from 28 February to 1 March 2018 in Kazan. The annual event, providing a discussion platform for representatives of business, public authorities and expert community on the issue of management efficiency, was organized by Kazan Innovative University named after V.G. Timiryasov with the support of the Chamber of Commerce and Industry of Tatarstan Republic. Over 300 specialists in the field of management, including quality and innovation management from Russia, United Kingdom, Japan and other countries participated in the event.
The Director of the UNIDO Centre in the Russian Federation Sergey Korotkov and national expert Svetlana Erkenova presented the experience of UNIDO in promoting and implementing innovative technologies and management methods in the Russian industry. In particular, the work under the project "Market Transformation Programme on Energy Efficiency in Greenhouse Gas-intensive industries in the Russian Federation" was presented in detail. As a result of no-cost and low-cost organizational measures the total direct energy savings of project beneficiaries amounted to 3,686,388 MWh and the total CO2 emissions were reduced by 2,563,895 tons CO2. Furthermore, representatives of the UNIDO Centre described the plans of joint work with the Kurchatov Institute on the introduction of naturally-based technologies in the industry in Russia and abroad.
The conclusion of a joint declaration between the UNIDO Centre in the Russian Federation and Kazan Innovative University with the aim of developing cooperation in achieving Sustainable Development Goals, and in particular Goal 9: Build resilient infrastructure, promote sustainable industrialization and foster innovation, through inclusive and sustainable industrial development, is currently under consideration.