UNIDO workshop on development of waste management solution was conducted in Astrakhan city
August 10, 2018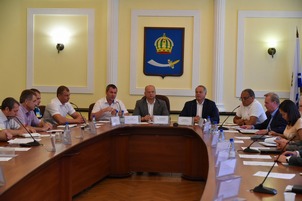 The purpose of the workshop conducted on the 1st of August was to discuss current situation and to develop an integrated solution for the management of waste and sludge at the city level with most of the stakeholders involved in the process: environmental specialists, representatives of city departments and services, municipal enterprises and non-profit organizations. The seminar was intended to familiarize UNIDO representatives and technical experts with the problems, priorities and needs of the parties involved, thus enabling to formulate the most efficient model, which would consider the objectives of all participants of waste and wastewater treatment process.
The meeting was attended by Head of Astrakhan Administration Oleg Polumordvinov, who stressed the importance of developing a solution for waste management and need for UNIDO's technical expertise in this matter. In his speech, Director of UNIDO Center in Russia, Sergey Korotkov, noted increasing awareness on environmental problems in Russia and the need to develop a concept that would not only be economically sound but, above all, would positively affect the quality of life of city residents. Carlos Chanduvi, Senior Coordinator of UNIDO Climate and Technical Innovation Division, also stressed the importance of holistic approach to the concept and outlined the next steps: collection and analysis of technical data, elaboration of the master plan and its subsequent presentation at the Southern Dialogue Forum.
In addition to the workshop, the representatives of UNIDO HQ and UNIDO Center in Russia, along with technical experts from ECEXA — Austrian Association for the Exchange of Ecological Concepts, conducted site visits to WWTP objects, including reed fields for wastewater treatment — a low-cost, but highly efficient and natural water filtration method. The experts also examined the process of collecting, sorting and processing of municipal solid waste in the city and visited one of the landfills.