UNIDO launches EU-funded value chain investment support scheme for post-harvest fishery in Cambodia
August 09, 2021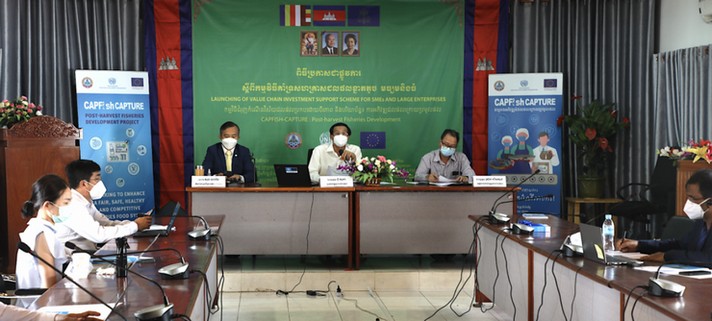 With support of the European Union, the United Nations Industrial Development Organization (UNIDO) and the Fisheries Administration (FiA) of the Ministry of Agriculture, Forestry and Fisheries have launched a Value Chain Investment Support (VCIS) scheme to support Cambodia's enterprises.
VCIS is a co-investment scheme for eligible fishery business operators to upgrade their production and to add value to their products through food safety certifications thus improving the competitiveness of their products in national and global market places. VCIS provides financial and non-financial support to Cambodian entrepreneurs, especially women and youth, to help them upgrade their business operation to comply with food safety standards and market requirements. VCIS is expected to co-invest over US$5m in at least 100 enterprises along with their associated value chain actors in post-harvest fisheries.
The launch event, presided over by Poum Sotha, Director General of the FiA, brought together over 100 participants from development partners, NGOs, provincial offices and the private sector. Poum Sotha highlighted the importance of the competitiveness of post-harvest fishery business operators to promote market access. He said, "The VCIS scheme will benefit enterprises and create sustainable impacts for businesses and society. Our aim is to improve the competitiveness of Cambodian fishery businesses by establishing good practices, infrastructure, technology, and food safety certification to achieve better markets, not only within the country, but also globally.''
The Government of Cambodia recognizes fisheries value chains as one of the pillars in the fisheries development, having important roles in contributing to the employment creation, food security and economy growth.
Attending the event virtually, Bryan Fornari, Head of Cooperation at the EU Delegation to Cambodia, said that the EU-supported CAPFISH programme sets a long-term strategic plan to support the fishery sector and private sector operators to strengthen and build a vibrant fisheries sector that benefits Cambodian fishery businesses through the generation of employment, food security and supporting livelihoods. VCIS leads to realization of valorizing of fishery resources aiming at better markets globally including the EU.
Speaking on behalf of UNIDO, Narin Sok indicated the important contributions of VCIS to provide better access to and availability of safe, quality and nutritious fishery products. He said ''with the support of VCIS, local entrepreneurs in post-harvest sector can build more trust of local products among consumers while building sustainable foods system in the country. The VCIS scheme is becoming increasingly important in the midst of the COVID-19 pandemic when fishery businesses experienced significant impact.'' He added, ''this will require an urgent transformation of the current agrifood system, and a better awareness of the importance of nutrition and food safety.''