Workshop "The present-day role of the intellectual property in the course of business"
June 28, 2016
17th of June 2016 at the Dubna International University for Nature, Society and Man there was carried out the workshop "The present-day role of the intellectual property in the course of business". The seminar was organized with the support of non-commercial partnership Dubna, IP boutique "Gorodissky and Partners", Dubna University and UNIDO Centre of International Industrial Cooperation in the Russian Federation.
Besides the organizers the specialists of "Aerospace systems" Ltd., Joint Institute for Nuclear Research (JINR), "Dubna Science and Technology Park" as well as the representatives of "Krypten" NPO, "SILA" LLC and "International Innovative Nanotechnological Centre" JSC took part in this seminar.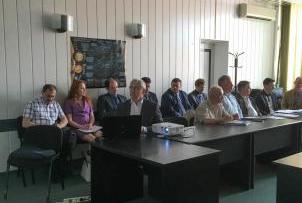 In the opening speech the director of non-commercial partnership "Dubna" Ratz A.A. thanked the attendees for their participation in the seminar and accentuated the importance of intellectual property protection for the scientists, investors and business representatives. The director of UNIDO Centre of International Industrial Cooperation in the Russian Federation presented his report in which he has enlightened the important issues concerning technology transfer and scientists' motivation in the process of invention making. Also S. Korotkov accentuated that patents and other forms of intellectual property protection contribute to investments growth, reducing investors' risks and intellectual property is a valuable asset only if the owners' rights are fully protected.
The topical questions of legal and invention protection, utility model, industrial patterns and trademarks were discussed within the seminar framework. Kuznetsov Y.D., the partner of "Gorodissky and Partners", the head of patent practice, Russian and Eurasian patent attorney, spoke about intellectual rights around us, demonstrated the indispensability of patenting in the modern business.
Also within the seminar framework the participants received the necessary knowledge and skills in the field of registration, preservation and protection of rights for the objects of intellectual property and examined the specifications of their usage and their tax assessment.
In the end of the seminar there was carried out the discussion in which the important questions of business individualization in the present-day economic conditions, intellectual property economy and necessity of invention patenting for the investors' attraction and technology transfer were considered.