The Federation Council announced the results of Ecodictation-2022
December 26, 2022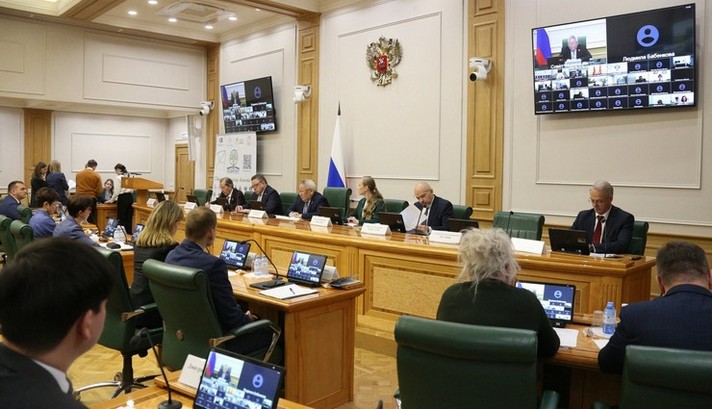 Photo: participants of the meeting on the results of the ECO-dictation / SF environmental initiatives for a sustainable future
The Federation Council announced the results of Ecodictation 2022, the largest educational project in Russia aimed at ensuring the country's environmental safety.
The event was attended by the Chairman of the Federation Council Committee on Rules and Organization of Parliamentary Activities Vyacheslav Timchenko. The event was moderated by Yegor Borisov, Deputy Chairman of the Federation Council Committee on Agrarian-Food Policy and Environmental Management.
Members of the Federal Organizing Committee of Ecodictant, representatives of regions, ministries and departments, large businesses and project ambassadors reported on the results of Ecodictant for 2022, the number of participants online and offline, their distribution across Russian regions, their successes and pleasant sensations within project.
Yegor Borisov also put attention to the fact that in 2020 the project was supported by 13 ministries and departments, in 2022 their number increased to 24. "Law enforcement agencies were actively involved in Ecodictation. They not only informed citizens about the opportunity to test their environmental knowledge, but also showed the importance of such a test by personal example. The Ministry of Emergency Situations, the General Prosecutor's Office, the Investigative Committee, the Federal Service for the Execution of Punishments joined the project.
In turn, Vyacheslav Timchenko spoke about the importance of the work being done. "It is necessary not only to educate people, it is important that the ideas of ecology enter the life of every person, become an element of cultural education," the legislator emphasized.
Natalia Sokolova, co-chair of the Ecodictant Federal Organizing Committee, head of the Union for Energy and Environmental Security, thanked the Federation Council for supporting the project, the idea of which was born within the walls of the upper house of parliament. "The ecodictation brought together the environmental initiatives of the regions," she said.
Sergey Korotkov, Director of the UNIDO CIIC, noted in his speech that Ecodictation is an important initiative aimed at educating young people and popularizing