Meeting on the PCB-containing waste issues in Russia
June 29, 2016
On the 22nd of June 2016 in the International Centre for Scientific and Technical Information in c. Moscow there was hold the meeting for the discussion of cooperation for the PCB-containing waste issues in the Russian Federation with the participation of the Ministry of Natural Recourses and Ecology of the Russian Federation, "Russian Railways" LLC, The Nordic Environment Finance Corporation (NEFCO), UNIDO Centre for International Industrial Cooperation in the Russian Federation and VTB CJSC.
The Director of the Department for the international cooperation of the Ministry of Natural Recourses and Ecology of the Russian Federation Mr. Inamov, the representatives of "Russian Railway" LLC Mr. Ryabukhin and Ms. Bukhtina, the head of Department for Sustainable Energy and Ecological Financing Mr. Litvak, the representatives of NEFCO Mr. Ahmadzai and Mr. Forsstrom took part in this event. From the side of UNIDO Centre in the Russian Federation the Director Mr. Korotkov, coordinator of UNIDO-Russian Railways project Mr. Nikiforov, the consultant for chemical safety and waste Mr. Ischenko, national consultants and experts participated in the meeting.
In the opening speech Mr. Inamov said that on the 6th of June in Washington at GEF Council Meeting he was pleased that during this meeting the Director General of UNIDO Mr. Li Yong made reference to cooperation with Russia and called the relations with Russia exemplary. Especially he mentioned this project on PCB with the Russian Railways. Also he told that this project is one of the best examples of multifocal attitude. Especially he mentioned that the availability in Russia of UNIDO Centre helps the implementation of the project at the best level and Mr. Inamov accentuated that he fully supported this idea.
During the meeting the representatives of NEFCO Mr. Ahmadzai and Mr. Forsstrom expressed their desire to join UNIDO-Russian Railway project for the environmentally sound management and final disposal of PCB, said that the methodology established within UNIDO project is unique. NEFCO is an International Financial Institution established by the Nordic Governments in 1990. NEFCO provides results-based green financing.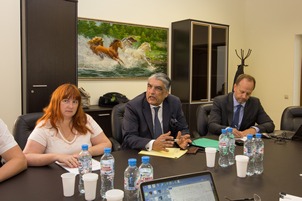 Mr. Korotkov spoke to the NEFCO representatives about completed work within UNIDO-Russian Railways project framework and mentioned that implementation of the Stockholm Convention on POPs provisions is top-priority for the Centre in the present day. The deputy head of the Department for the labor protection, industrial safety and environmental control at "Russian Railways" LLC Mr. Ryabukhin presented the technical aspects of this project, concerning inventory, sampling and analysis of PCB-containing equipment and waste. Also Mr. Ryabukhin replied the questions that were asked by NEFCO representatives about equipment treatment and PCB disposal in a proper manner.
In the end of the meeting the Parties discussed the regular issues for the cooperation execution and arranged about information exchange in the nearest time. Also there were appointed contact persons from each Party. The representatives of all organizations thanked each other for the meeting and expressed their hope for the further productive cooperation.