Eurachem Scientific Workshop on Quality Assurance of Measurements
May 18, 2022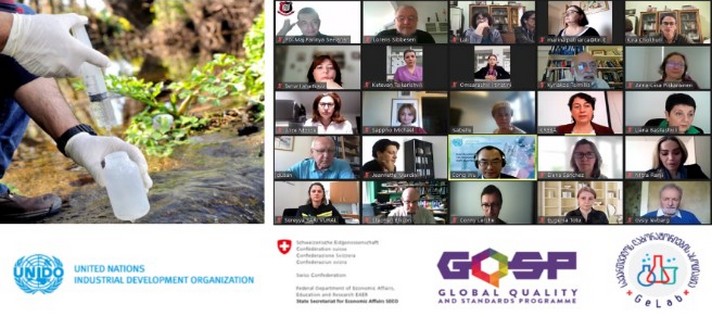 UNIDO, through its Global Quality and Standards Programme (GQSP), supported the Georgian Laboratory Association (GeLab) to organize an online scientific workshop on Quality Assurance of Measurements from Field to Laboratory with Focus on ISO/IEC 17025:2017 Requirements on 16-18 May 2022, in connection with the Eurachem General Assembly 2022.
The three-day workshop was organized by GeLab and attended by over 100 participants from laboratories, associations and universities in 33 countries all around the world. The scientific workshop focused on the quality of analytical measurements and the reliability of decisions based on test results as per the relevant international standards ISO/IEC 17025. It addressed current practices, challenges, and future recommendations on quality assurance of physicochemical and microbiological measurement methods and their validation, including sampling-related issues.
As one of the main beneficiaries of the GQSP Georgia, GeLab has been supported by UNIDO to upgrade its service capacity for a sustainable enhancement of the Georgian laboratory infrastructure in terms of knowledge sharing, talent training, network building and capacity upscaling. As of today, UNIDO has been providing support to the association in various areas, including institutional setup, membership strategy, business plan development, provision of services to laboratories and establishment of a training Centre under GeLab, as well as the creation of corporate branding and a professional website ultimately leading to membership engagement and enhanced service provision.
The GQSP Georgia is funded by Switzerland through the Swiss Secretariat for Economic Affairs (SECO) and implemented by UNIDO, aiming to strengthen the capacity of conformity assessment bodies (CABs) serving the fruit and vegetable value chain for upgrading producer's ability to comply with market requirements, facilitating market access for SMEs and ultimately enhancing export capacities of fruits and vegetables from Georgia mainly towards the EU market.
Source&Credits: https://hub.unido.org/