St. Petersburg International Economic Forum
June 23, 2015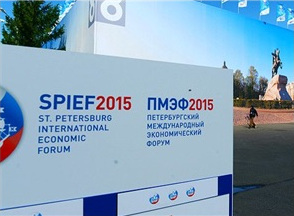 18-20 June, 2015 the 19th International Economic Forum ended in St. Petersburg. The Forum is considered to be one of the leading and important international events for business and the global economy.
The forum was attended by the UNIDO delegation headed by the Director-General Li Yong. Within the visit, the Delegation held a series of meetings with Minister of Natural Resources and Environment of Russia Sergey Donskoy, Minister of Trade and Industry of Russia Denis Manturov, President of JSC "Russian Railways" Vladimir Yakunin and Deputy Chairman of VEB Sergey Vasiliev.
On June 19 Mr. Li Yong made a speech at the panel session "Green growth and the Economics of climate change", stressing the need to pay more attention to the factors of "green" and sustainable growth and the adoption of more specific measures aimed at reducing emissions and improving resource efficiency.
In VEB Business area the CIIC Director Sergey Korotkov made a presentation of the UNIDO project «BRICS & UNIDO: Technology and Innovation for SMEs Development» for the participants of the BRICS Business Forum.
Each year the number of participants of the forum exceeds 7000 people who come from more than 70 countries. The forum brings together leading politicians and businessmen, who meet to identify and discuss key challenges that face the Russian Federation and global community and to attract the necessary instruments for dealing with it.